By David R. Holland, Senior Writer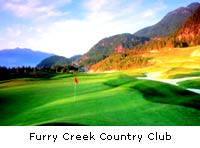 VANCOUVER, B.C. (Aug. 12, 2002) -- Throughout history, British Columbia has been a home for adventurers and scenic natural wonders.
In 1857, gold lured thousands from all over the world to the banks of the Fraser River. Many prospectors kept heading north through B.C. to the Klondike Gold Rush of the Yukon.
In 1885, railroad tycoons of the Canadian Pacific watched the final spike driven in the Monashee Mountains. Soon fur traders streamed here along with homesteaders, sailors and explorers to this beautiful part of the world where bald eagles are found in the tops of the towering Western red cedars and mountains clasp the Pacific Ocean.
The adventure continues for golfers of the world.
Imagine, from your Fairmont Waterfront Hotel home base, where your view is the North Shore Mountains, Lion's Gate, Burrard Inlet, and countless cruise ships, you hop on a helijet. Liftoff takes you for a breath-taking sweep of Vancouver and then to Westwood Plateau Golf & Country Club for a round of golf.
The package is called "Heli-va-View."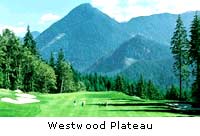 In an understatement, James Cronk, General Manager of Westwood Plateau said: "Unique golf experiences are often thought of as the domain of resorts. We think this is one of the more unique golf experiences you will have."
But if by air is not your thing, try golf by sea.
The Sea to Tee Package, whisks you from the historic Fairmont Hotel Vancouver by bus to Sewell's Marina in beautiful Horseshoe Bay. Here Sewell's Sea Safari will put you aboard a 26-foot rigid hull inflatable Zodiak, powered by twin 200 h.p. motors. You will zip around West Vancouver's Howe Sound stopping for scenes of the city skyline, lighthouses, seals and varieties of sea birds.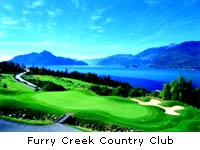 The journey ends on the shore of Furry Creek Golf & Country Clu b, right next to its signature 14th hole, which hugs Howe Sound as a peninsula target. Here, a staff member takes you to the clubhouse. You have ventured from sea to tee.
Don't fret, land lovers, you don't have to go by sea or by air. You can simply drive to any number of golf courses in the Vancouver area. And you southerners might also be surprised that this part of Canada has a relatively temperate climate and in a few areas you are able to play golf year-around.
The Canadian Golf Tourism Alliance (www.canadagolf.com) can also claim that golf in Canada is a bargain. "For American golfers, Canadian golf is now On Sale for 50-Percent Off thanks to the very favorable US-Canada dollar exchange rate," the website exclaims.
"Sometimes golfers look at our prices and see how reasonable one course is priced and they start reasoning that if the price is that good, the course can't be that good," said Arnie Porter, past Chairman of the Canadian Golf Tourism Alliance.
Nothing could be further from the truth. Canada's top courses are equal or better to many in the USA. There are more than 2,000 layouts in Canada and many are within 100 miles of the American border.
Here's a capsule look at some of the Vancouver area choices: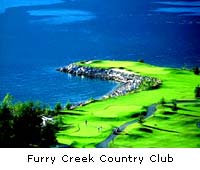 Furry Creek in Lion's Bay claims to be B.C.'s most scenic golf course and was the site of the Adam Sandler-Bob Barker fight scene in the movie "Happy Gilmore".
It's a landscaped playground with awesome views of the mountains and water. This short 6,001-yard par 72, 18-hole golf course was designed by Robert Muir Graves and built in 1993.
The signature hole is as tough as they come from the back tees -- a par 3 at 211 yards, sitting peninsula-like into Howe Sound, with panoramas of mountains rising in every direction. The first hole drops 165 vertical feet from tee to fairway. To score you must deal with shots over ravines and finish with tight woodland holes.
Be sure to visit the Sea to Sky Grill serving West Coast cuisine. The Creekside Room, available for parties, offers views of the cascading Furry Creek water falls.
Northview Golf Club in Surrey is home to the PGA Tour's Air Canada Championship on Arnold Palmer's Ridge Course, which measures 7,101 yards at par 72. Canadian Mike Weir eagled No. 14 with an eight iron from 159 yards to win the title in 1999.
There are two holes you won't forget on the Ridge layout -- including the par-4, 350-yard No. 8 that challenges the big hitters to go for the green in one. It is surrounded by water and traps. The finale is 561 yards from the back and features a fairway split by an elongated bunker. Water frames a peninsula green where big hitters can dare to be dry on their second shots.
Northview's Canal Course (par 72, 7,100 yards ) offers the challenge of Scottish link-style play in rolling terrain, with marshes, streams, canals and grasslands of the Fraser River Valley just outside of Vancouver.
The clubhouse features two restaurants; the Palmer Room and Duffey's Sports Grill, offering casual dining overlooking the golf course.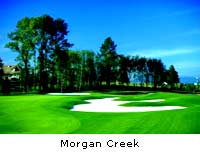 Getting off to a good start is imperative at Morgan Creek Golf Course , 30 minutes south of Vancouver in South Surrey and only 10 miles from the US border. The first hole is handicap No. 1. It's 421 yards from the back tees and requires an exact drive, a dogleg right and approach over Morgan Creek, a salmon run.
Morgan Creek, which also has a corporate golf school, measures 6,954 yards, par 72, and is a walkable course in a natural setting. Watch closely and you might see bald eagles circling above.
"I think the course looks like it has been here a long time," said Wayne Vollmer, Director of Golf for the Thomas McBroom layout. "Every hole is unique and you will see firs, cedars and birch trees and many environmental areas throughout. There are no tricky holes -- you see everything tee to green."
After your round, dine at the Morgan Creek Bar & Grill.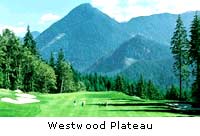 Westwood Plateau Golf Club, set high above Coquitlam, B.C. on Eagle Mountain, is known for its award-winning service, scenery and golf academy. Course designer Michael Hurdzan incorporated large Douglas firs, mammoth granite rock faces and rugged ravines in this 6,770-yard par 72.
One of the more scenic holes in the Vancouver area is No. 12. It's 162 yards from the back tees over a deep ravine with a gray-granite wall framing the back of the hole. But all of Westwood Plateau's par 3s are excellent.
The new Golf Academy features a private training room, A-Star video system, three-hole practice course and nine-hole executive course .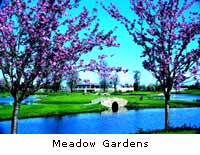 Meadow Gardens Golf Club located in Pitt Meadows, will make you stop and think on its signature 18th hole comprised of three separate islands. The hole measures 583 yards from the back and demands precision.
This 7,041-yard par-72 layout was designed by Les Furber and is set among trees, marshlands, sloughs, waving cattails, abundant bunkers, strategic challenges and five lakes with a backdrop of Golden Ears and Coast Mountains.
After your round at Meadow Gardens don't forget to dine in the Sherwood Restaurant or the Wedge Bar and Grill, with its patio and satellite TV.
Vancouver golf -- super meadow and mountain settings, blessings of nature and variety make British Columbia a must for any avid golfer.
Where to Play:
Morgan Creek Golf Course
3500 Morgan Creek Way
South Surrey, B.C. V3S 0J7
Telephone: 604-531-4653
Internet: www.morgancreekgolf.com
Westwood Plateau Golf Course
3251 Plateau Boulevard
Coquitiam, B.C. V3E 3B8
Telephone: 604-945-4007 or 800-580-0785
Email: guestservices@westwoodplateau.cc.ca
Internet: www.westwoodplateaufolf.bc.ca
Meadow Gardens Golf Course
19675 Meadow Gardens Way
Pitt Meadows, B.C. V3Y 1Z2
Telephone: 604-465-5474
Email: info@meadowgardens.com
Internet: www.meadowgardens.com
Northview Golf & Country Club
6857 - 168th Street
Surrey, B.C. V3S 8E7
Telephone: 604-576-4653
Email: golf@northviewgolf.com
Internet: www.northviewgolf.com
Furry Creek Golf and Country Club
150 Country Club Road, Furry Creek
Box 1000, Lions Bay, B.C. V0N 2E0
Telephone: 604-896-2224
Email: scruse_furry@golfbc.com
Internet: www.furrycreekgolf.ca
Mayfair Lakes Golf & Country Club
5460 No. 7 Road
Richmond, B.C. V6V 1R7
Telephone: 604-276-0505
Email: kclarkson_mayfair@golfbc.com
Internet: www.golfmayfairlakes.com
The Redwoods Golf Course
P.O. Box 32040
22011 - 88th Avenue
Langley, B.C. V1M 2M3
Telephone: 604-882-5130
Email: dhawley@redwoods-golf.com
Internet: www.redwoods-golf.com
Where to Stay:
The Fairmont Hotel Vancouver is the grand lady of the city with a colorful past. The Fairmont Waterfront is described as the woman with compelling views. The Fairmont Vancouver Airport is the "runway" model -- you will be amazed at the sound-proof rooms.
Log on to www.fairmont.com to make reservations at any of Canada's luxury Fairmont Hotels. Telephone Fairmont reservations: 800-441-1414.
The 19th Hole Personal Golf Concierge:
Vancouver's only personal golf concierge is open in the Fairmont Waterfront Hotel. Telephone 604-694-1223. Arrange your "Heli-va-View" Package here with the folks of Helijet. Also log on to www.helijet.com or contact Rick Hill of Helijet at rickhill@helijet.com for tours of the city.
Sea to Tee Package:
From beautiful Horseshoe Bay, take the 26-foot rigid hull inflatable Zodiak boat, powered by twin 200 h.p. motors from Sewell's Marina to Furry Creek Golf & Country Club. Your guide will zip you around West Vancouver's Howe Sound stopping for scenes of lighthouses, seals and birds. Look high in the trees and you might see a bald eagle. A warm outerwear jumpsuit is provided for the speedy journey.
Contact Jason Lowe at Furry Creek to reserve your Sea to Tee, Golf n' Safari. Call 888-922-9462 or jlowe_furry@golfbc.com.
Sewell's Marina
6695 Nelson Avenue, Horseshoe Bay
West Vancouver, B.C., Canada. V7W 2B2
Telephone: 604-921-3474
Internet: www.sewellsmarina.com
Where to Dine:
The Sandbar is a 300-seat fresh seafood and fish restaurant in the heart of Vancouver's world-famous Granville Island. Perched over the waterfront with views from every seat in the restaurant; guests can enjoy the bustle of the market, the non-stop energy of False Creek and the shores of Vancouver's West End.
Sandbar Restaurant
#9 The Creekhouse
1535 Johnston Street
Granville Island
Vancouver, B.C. V6H 3R9
Telephone: 604-669-9030
Internet: www.mysandbar.com
Don't shy away from hotel restaurants -- the best gourmet chefs and pastry aficionados work here in Canada. The restaurants found at the Fairmont Airport, Fairmont Waterfront and Fairmont Hotel Vancouver are all superb.
Tour Vancouver:
Pick Rockwood Adventures for your bus tour of historic Vancouver, including Stanley Park with its huge western red cedars and totem poles. Call Manfred Scholermann at 604-980-7749 or email him at tours@rockwoodadventures.com. Log on to www.rockwoodadventures.com for more information.
Other Helpful Web Sites:
Log on to:
www.canadagolf.com.
www.canada.com.
www.BCRockies.com.
How to Get Here:
Air Canada, what else? Air Canada has hundreds of non-stop flights between the US and Canada every day -- more than any other airline. Canada is served by daily Air Canada direct flights from all major cities in the US, Europe and Asia. Visit www.aircanada.ca for more information. Reservations: 888-247-2262.
David R. Holland, an award-winning Senior Writer for TravelGolf.com, travels and plays all over the world. Watch for his On the Road in Canada: Whistler story coming soon in RockiesGolf.com. Contact him at dave@travelgolf.com.