By Tim McDonald,
National Golf Editor,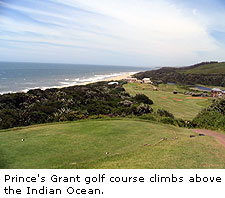 JOHANNESBURG, South Africa (Feb. 3, 2005) - South Africa has to be one of the strangest and most fascinating places on earth, a huge, ruggedly beautiful country where a relatively short drive will take you from posh shopping malls in ultra-modern cities to primitive African bush where lions and leopards roam free to hunt antelope like they have for thousands of years.
The country has towering mountain ranges and a mammoth, semi-desert region, the Karoo, all enclosed by more than 1,800 miles of tropical coastline touching two of the world's great oceans, the Atlantic and Indian, where great white sharks scare the bejabbers out of surfers riding some of the best waves in the world.
The geographical contrasts have nothing on the social and cultural anomalies: a first-world infrastructure countered by vast pockets of third-world poverty. Rich in minerals, especially gold and diamonds, South Africa is the model for developing Africa.
Yet outside its major cities of Johannesburg, Pretoria, Cape Town and Durban, lay the grim, impoverished townships - a truly amazing sight. There are tin shacks seemingly built on top of each other, sometimes spreading nearly as far as the eye can see. All enclosed by government fences.
Christian Barnard is the South African who gave the world the first heart transplant, but two-thirds of the people here still seek traditional healers or "sangomas" - shamans, if you like - when they get sick.
South Africa has very good roads mostly uncluttered by billboards, a top-notch telecommunications system and a stock exchange that is among the top 10 in the world. On the other hand, it also has a handful of "muti" murders, in which people, primarily children, are mutilated for their body parts, believed by some sangomas to be particularly potent for muti, the Zulu word for medicine.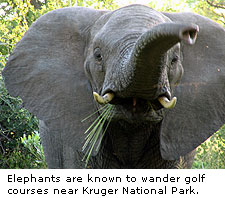 South Africa's strange history has resulted in some interesting blends between the ancient and the modern. You can get the interior of your house designed, for example, by Zulu Zen Interiors and dance along with the Zulus at cultural shows. You can also take tours of old Zulu battlefields and see where the great Zulu leader Shaka was murdered by his two half-brothers.
Private game reserves pop up like McDonald's restaurants. Anyone can start one - all you have to do is buy a few carnivores at auctions and prove you can feed them by supplying antelope and other "food."
South Africans take all this in stride, but misconceptions of the country abound, even among Africans from other countries. Illegal immigrants still pour in, swayed by stories of gold lying in the streets of Johannesburg. Many of them come through the Kruger National park by way of Botswana; if they make it past the lions, they usually end up in one of the townships, unemployed and disillusioned.
This is a country where only 11 years ago, blacks were kept separated from whites by law. The tumultuous end of apartheid, which produced two Nobel Peace prize winners in Nelson Mandela and Archbishop Desmond Tutu, has also left a great deal of simmering tension. Many South African whites resent the government's efforts to force blacks into more prominent roles in business, while blacks are openly suspicious of the motives of powerful white economic interests.
"To the outside world, it looks fine, but once you start digging you find this problem and that problem," said a long-time resident who didn't wish to be identified. "The white man in South Africa still has a better life."
One significant negative resulting from the end of apartheid is an upsurge in crime.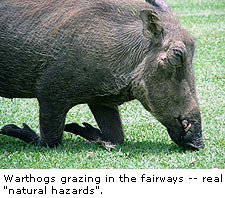 "I used to be able to walk in downtown Johannesburg, at night, and have nothing to fear," said Margaret Schopenour, a German transplant who has lived in and visited the country for nearly 40 years. "Now, you can't even go there during the day."
There are signs posted around urban areas, usually around the townships, that warn of "hijacking hot spots" and private security is a booming and lucrative business.
The good news is that it is still a safe country in which to travel if the usual precautions are taken. And with the current exchange rate, still a good deal for Americans and Europeans to visit.
All of this makes for an intriguing place for traveling golfers to visit South Africa, with its sunny days, cool nights and a wealth of choices for excellent golf courses, some of them world-class. Combine a golf safari with a wild game safari and you can have a truly amazing experience.
It's impossible to list all the great courses in South Africa, but here is a short list of courses to play.
Must plays
- Leopard Creek this year supplanted Gary Player Country Club as the top-ranked course in the country, according to the South Africa edition of Golf Digest. The course borders the Kruger National Park, so there are plenty of sightseeing opportunities as well. A private club, you can get on if you stay at the Malelane Sun hotel or Buhala Game Lodge and Country House.
- Skukuza Golf Course is not a championship-caliber course by any means, but its strong lure lies in the fact it lies within the confines of the Kruger park. With no fences, any and all of the park's wild animals have free, lifetime passes to the course. Watch out for the hippos in particular, in Lake Panic. You have to hit over them on the par-3 ninth hole.
- Gary Player Country Club held the top spot in Golf Digest's rankings for a number of years Located in Sun City, the course is generally acknowledged as the toughest challenge in the country.
- Glendower in Johannesburg was ranked the "best value" course in South Africa by Golf Digest. Green fees are 180 South African rands and for that you get a very tough course that charms you with its immaculately maintained, garden-like layout; in fact, it was designated a nature conservation area in 1973. It's hosted the South Africa Open three times.
- Erinvale is known as one of the most difficult courses in the country. Another exceptionally well-conditioned layout, Erinvale is in the West Cape area, home to the vast wine vineyards. It's a Gary Player design built on an old farm with spectacular views of False Bay, the Helderberg Mountains and the Hottentots Holland mountain range.
- Prince's Grant is consistently ranked among the top-25 of South Africa golf courses, and it's an apt accolade: It's a strategically interesting course that plays down, around and through the valleys of the North Coast, circling through wild plum trees and flame lillies. Well-known South African golf course architect Peter Matkovich built a course that gives you a variety of appearances, from wide, wind-swept vistas to low-lying holes with narrow chutes through thick vegetation.
- De Zalze is another Matkovich design. Operated by the Spier Golf Club, the course is in a parkland setting, with oak trees and the Blaauwklippen River winding through the course. It also features great bentgrass greens: "You won't find many golf courses in South Africa with bentgrass greens," said director of golf Dave Hansen."
- Mabalingwe is a beautiful new course set in the bushveldt of the Mabalingwe Game Reserve near Warmbaths in Limpopo. Voted the best course in South Africa of 2004, it features all sorts of creatures roaming around: as an added thrill, visitors can play with the lion cubs on the premises. "It's basically a game reserve with a golf course right in the middle," said head pro Hendrik Devos. They rope off the greens in the late afternoons to keep off zebra and wildbeest.
Where to eat
South Africa has some world-class restaurants, but beware, the food - though delicious - is very rich. For a real treat, try the Haute Cabriere Cellar Restaurant, on the Cabriere Estate in Franschhoek. This is where French Hugenots came 300 years ago to establish their wine vineyards, at the invitation of South Africa.
The restaurant is built into a hill overlooking the Franshhoek Valley - try to get there in late afternoon with the sun slanting down on the Drakenstein Mountains. In the back are the Pinot Noir vineyards where the grapes are grown; you can taste the wine in the restaurant's cellar, where the wine is maturing.
There are no starters or appetizers, just small and large portions of items like oysters, salmon trout or rack of lamb, together with the chefs' sparkling wine recommendations.
Where to stay
There are plenty of exclusive hotels, guesthouses, bed-and-breakfasts and other types of lodging in South Africa. However, if you're near the Kruger National Park, try to book a room at one of Exeter's four lodges, all in the Sabi Sand Game Reserve, which forms part of the Kruger park, for a serious African adventure.
As part of your lodging, you get two, daily game drives where the "Big Five" can easily be spotted: lions, leopards, elephants, rhinos and buffaloes. Guided bush walks are also available with armed guides.
Trained guides and trackers take you through the bush, chattering to each other in Zulu over an intercom. They manage to get you so close to the predators you could reach out and touch them, if you were fool enough to try.