The Warrior Within
Behind the billion-dollar smile and picture-perfect swing, Tiger Woods is a ruthless competitor whose appeal lies not in a winning personality but in a personality built to win
by James Cusick
photographed by Michael O'Neill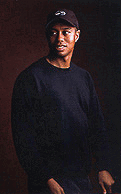 YOU COULD SAY "I AM TIGER Woods" before and after every shot--this is particularly hilarious while holding your finish following a perfect shank--and it wouldn't do any good. Neither would immersion in the web sites, video games, television movie or books (forty-six and counting) devoted to the subject of Woods. Even if you had watched the twenty-four straight hours of Tiger-related programming the Golf Channel aired on his twenty-fourth birthday, last December 30, even if you wore red every Sunday, you'd still want to know one thing: Who is this guy?
There's a good reason. Tiger Woods doesn't want you to know. He has had strangers trying to probe his depths since he was carrying a Spiderman lunchbox to elementary school. He's hardwired to be private and reserved except around his closest friends and has seen fame teach him that more people knowing him means more people wanting something from him. From an early age, Woods has been able to say no as stonily as a Broadway casting director because, frankly, he's not even all that concerned whether you like him. He's too secure, has been imbued with too the much self-esteem, has too intense a sense of mission. On the most fundamental level, the case of Tiger Woods is really quite simple. The young man wants--like no person who ever lived--to be the greatest golfer of all time. Everything he does, and chooses not to do, is calibrated to take him closer to the goal. "When my son wants to achieve something, nothing distracts him," says his mother, Kultida Woods. "I don't know why, it's just in him. He's a special kid, and that is the most special thing about him."
Woods's mission can be jarring to those in his path. Despite taking on the dead-eyed mien psychologists call "flat affect," which makes him seem impervious when moving through crowds, the inner Woods recoils at the public's encroaching on the private. This is implicit in the brusque rush of security and bodyguards who clear a path for him, and his fast-walking sweeps through clamoring autograph lines. It's also detectable in his cogent but, above all, safe answers to grasping reporters in group interviews. The overriding message to those kept out is, I am Tiger Woods . . . and you're not.
"To live a sane life, I have to be ruthless sometimes," says Woods in the kind of well-constructed, formalized (he'll occasionally throw in a lofty "hence," or even "i.e.") answer that discourages follow-up or further probing. "Put a wall up, say no, be cold. If I didn't, I would never have my own time and space, which is vital to me to achieve what I want in life." But even when he is repelling, he remains compelling. By steadfastly adhering to his mission, he connects to people in a way that transcends personality and public relations. In the most mannered of sports, he has elemental appeal as a genius with a warrior mentality, his uppercutting fist pump more fierce and startlingly hungry than any celebration golf has ever seen. Normal people have to relinquish or at least compromise their dreams, but he won't, his talent and purity of effort thus far incorruptible.
Woods upholds this veneer of impenetrability to such an extent that it not only separates him from the other best golfers in the world but unsettles them even as it gains their respect. Those sentiments were revealed in the locker room at last November's season-ending American Express World Golf Championship, at Valde-rrama, where Woods won his eighth official PGA Tour victory of the year--and fourth in a row--by beating Miguel Angel Jimenez in sudden death. Cut to a small television showing Jimenez--having assumed a one-stroke lead after Woods shockingly triple-bogeyed the tricked-up par-five seventeenth--addressing his drive on the seventy-second hole. Right then, one of the dozen American pros standing before the screen intoned in an exaggerated commentator's voice, "You couldn't drive a pin up his ass with a nail gun." The knowing laughter of men-relaxed-after-sharing-a-difficult-task filled the small locker room. But the easy mood turned strangely restive when Woods, who had stayed stoically focused to par the eighteenth for a sixty-eight, entered the room.
Apart from his friendship with Mark O'Meara, Woods generally keeps a distance from his fellow pros. For example, he insists on doing his extensive weight-training regimen either alone or with trusted members of his inner circle. "I'm not going to give away my program," he explains. Although the most powerful entity in the game, he has remained an outsider who was imprinted in childhood as a nonwhite excelling in a white game. Besides, he wants to beat other players more than he wants to be their friend, and they know it.
In that same locker room, his game face clearly still on, Woods stayed in the back of the group quietly eating an apple. One pro broke the silence by asking Woods what club he had hit for his third shot on the seventeenth, which had landed well on the severely sloped putting surface but trickled back into the water. Woods matter-of-factly answered, "Nine-iron," but his lack of elaboration only increased the growing unease. Part of it was the group's having to restrain themselves from saying anything that would distract Woods, who had to stay mentally ready for a playoff. But at least equally at work was his growing aura as the "dominant buck in the herd," to use Johnny Miller's phrase. Every player present had a clear sense of the game's best finisher silently getting ready for just the kind of moment he lives for (of all his accomplishments, Woods's eleven straight victories when holding or sharing the lead going into the final round is the one his peers regard the highest). As Woods's presence filled the room, the fascination was furtive but palpable. "The expert leaves no trace; divinely mysterious, he is inaudible," wrote the ancient Chinese general Sun Tzu in The Art of War. "Thus he is master of his enemy's fate."
After Jimenez bogeyed and Woods went out to step on his neck, the chattering recommenced. The scene reflected a natural order that surrounds champions. Arnold Palmer's first and lasting impression of the young Jack Nicklaus was of a "different animal altogether." When Byron Nelson described the peculiarity of winners, he said that they're a "different breed of cat." And the player named after one of the biggest cats happens to love nature documentaries. Once, after watching a segment about a male lion taking over the pride of a vanquished rival, killing all the cubs and then copulating with their mother, Woods turned to his companion. "How cold is that," he said, shaking his head. "Can't be weak in this world."
It didn't need to be said which lion Woods identified with. "Weak" is one thing Woods has never been called--even when he was a pencil-necked seventeen-year-old who couldn't bench press one hundred pounds. His invulnerability is built on massive self-esteem nurtured as the only child of two single-minded people. The intensity of his e.s.t.-trained father is well-known; his mother was so determined always to be there for her son that Tiger never once had a baby-sitter. The results are reflected in the periodic self-test Woods gives himself. "If you can walk up to a mirror, look at yourself and say, with no hesitation, 'I love myself,' then everything is fine," he says. "That has never been a problem my entire life." Asked about qualities he doesn't like in himself, Woods pauses a long time, either unwilling to admit a fault for the record or genuinely coming up blank. Finally he says, "I don't know. I'm constantly evolving."
And so he is, rapidly. Woods began 2000 the happiest and most fulfilled of his young life. His life was changed forever after he won the Masters and the extreme elements of Tigermania (including repeated death threats) closed in on him. But after a few weeks of disillusionment, he pragmatically accepted his lot and made adjustments. Since then, he has installed a support system that first and foremost allows him to play golf with a clear mind and a rested body. Although critics say Woods has been stretched thin with endorsement contracts, he only takes deals that offer maximum dollars for a minimal investment of his time. His contract with American Express, for example, pays him five million dollars a year for five years. In exchange, Woods gives the company four days a year to shoot commercials.
Behind the business people is a network that begins with mentors and friends (such as Michael Jordan, Charles Barkley, Ken Griffey Jr. and O'Meara), leads to an inner circle of his closest childhood buddies, along with his girlfriend of nearly two years, Joanna Jagoda, and ends with his mother, Kultida, and his father, Earl. Woods has two residences, a villa behind the gates of Isleworth, in Orlando, and a condo in Manhattan Beach, near his childhood home of Cypress, California. Woods has plans to build a large home in Isleworth but hasn't pulled the trigger. "He's cheap," says his mother, only half joking.
"I understand better what is happening around me," says Woods, "so I'm delegating my time better to things that make me happy." As a result, there is about the new-millennium Tiger a strong sense of organization, energy gathered and overall command. His physical appearance--the closely cropped fade, the trim, muscular lines of his body--gives him a more ascetic cast, evocative of a martial artist. Intensified dedication to a golf- specific weight-training regimen along with natural maturation has transformed Woods from a stripling into a six-foot-two, 180-pound twenty-four-year-old with slabs of muscle on his shoulders and back made all the more prominent by a thirty-inch waistline. It's a body that now applies its power more like a slamming steel vault than a cracking whip, with a swing that's been simplified to have fewer moving parts. Although he still occasionally boils over with frustration at poor shots, his on-course demeanor reflects emotional containment and more channeled focus. "The more hectic things get, the more calm I try to get," he says. This was evident in his restrained but clearly soulful reaction to winning the PGA, at Medinah, the clenched fist held immobile near his face being similar to Jordan's pose after making the last shot of his career to win his final NBA title. And Woods clicked along machine-like during his amazing around-the-world-in-five-weeks whirlwind that began with a victory on Halloween at the Tour Championship, in Houston, made its way through wins in Spain and Asia and ended in Hawaii with his defeat of Davis Love III at the Grand Slam of Golf.
"I recover quicker now because I'm in better shape, and I save myself better mentally and physically because I've got more experience," he says. "When I need it, I've got more in reserve. I'm stronger." The fortress Woods has built protects a magical core. The keen sense of something diamond hard within Woods is what has given seasoned skeptics in the most-unpredictable-game-ever-invented the belief that he will one year very soon win all four major champion-ships--the never-before-achieved professional Grand Slam. It's the laser-like concentration from this core that informed Woods's twelve-stroke victory at Augusta, his fifty-foot putt in sudden death to beat Ernie Els at this year's season-opening Mercedes Championships and even his mesmerizing wedge-bouncing ad.
This core is Popeye's metaphorical spinach, or The Force as embodied by Obi-Wan Kenobi, a poster of whom Woods tacked on the closet door of his childhood bedroom. The core is where Woods's ultimately inexplicable gift resides, and it is the absolute law of his life that it can't be contaminated or even touched.
"It's something I've begun to understand more," says Woods, choosing to leave it nameless. "I'm learning how to harness it and protect it a little more. And how to make it grow."
The aura of an indomitable center is the attribute he shares with the two great athletes he is most linked to--Jordan and Nicklaus. Like Jordan, who refers to his young friend as a little brother, Woods has demonstrated that rather than be satisfied with being the best of his time, he aims to sacrifice and improve each year until he's the best ever. Nicklaus, meanwhile, is the target, his twenty majors the standard (counting three U.S. Amateurs, Woods currently has five majors, putting him on the same pace as Nicklaus at twenty-four). Woods is not as close to Nicklaus as he is to Jordan, but his bond to the former is natural.
"Jack and I, our relationship is very interesting and very unique," says Woods. "It's kind of amazing how two different people from two different eras who don't have much contact can feel close, but we do. We see in each other the same kind of strategy, the concentration and the passion for the game. When I converse with him, I get a different feeling than with anybody else, like he's handing something down."
But Woods is already entering uncharted territory, his combination of talent and influence on the business of golf an unprecedented force, a hammer that could do real damage if wielded unwisely. His test will be melding his titanium will and perfectionist nature with compassion and wisdom. By most accounts, he has a way to go. His track record already includes leaving Fuzzy Zoeller--in the days following his lamentable post-Masters comments--to twist in the wind by ignoring Zoeller's repeated attempts to contact him and apologize. Woods has also fired three key members of his support system: personal family lawyer John Merchant, agent Hughes Norton and caddie Mike "Fluff" Cowan.
These actions have given Woods a reputation for being chillingly tough and merciless in his business relationships, to the point that his father says, "I've encouraged Tiger to incorporate compassion and humanity into his decisions, and I believe he is getting better at that." Although Woods says he has no regrets over any of those decisions or how they were carried out, he also knows he is not immune to the corrupting nature of power.
"I know people let me slide on things, so I'm constantly checking myself," he says. "If I snap at a person, it might seem like I have the authority and the ability to get away with it, but that doesn't mean it's right. I know when I do it that it's wrong, and that sensation of doing a bad thing is as strong as ever. I always say, you have to come from truth. If you come from truth, you'll be all right." One place he seems to find truth and to let his guard down is during his clinics with kids. "The wall is not up then because kids don't pass judgment. They don't learn that until later in life. And kids always know when you're true or not."
Woods hopes to keep finding his truth in the strikingly normal routines he relies on to counterbalance the extremes of his life as megastar and ultra-competitor. Asked to describe his perfect day, Woods doesn't say Pine Valley with MJ, clubbing with CB or jetting around with Junior. Instead, he'd be casually hanging out with the handful of best friends he grew up with.
"We might go play golf somewhere all by ourselves where no one bothers us," he says. "Then go to dinner, go to a bar somewhere, then come home and watch a game or a movie, shoot some pool. It's the kind of stuff I don't get to do that much anymore. My youth has always been there, and it still is. But I just have to work a little more to have it."
With that in mind, he bought the three-story ocean-view condo in Manhattan Beach last year that has become the gathering spot for his best friends. "He's really gone out of his way to keep us close," says Bryon Bell, a member of Woods's inner circle since eighth grade and who carried his bag in victories at the 1996 Amateur and last year at the Buick Invitational, at Torrey Pines. "All I can say is that Tiger is a very real person. He never 'big-times.' The only thing we've ever hinted that he should do more of was sign autographs for his fans, and he's done that. I never really thought Tiger would change, but considering his life, it's all worked out better than I thought it would."
Woods is also finding inner peace in an annual pilgrimage with his mother to a Thai Buddhist temple near Los Angeles. He admits he used to submit to sitting through the forty-five-minute ritual of Buddhist scripture strictly to appease Kultida's wish that he stay in touch with his Thai heritage, but before his last visit, which took place the day before Christmas, he found himself looking forward to the experience.
"I can see now how some of the pivotal points of Buddhism are applying to my life," says Woods, who wears a gold Buddha around his neck. "Staying balanced and calm and internally strong. The key thing is that you meditate to discover and rectify the faults within yourself, and not rely on others to bail you out. In my position, that's very important."
As he matures, Woods is putting out a more polished façade to the public. Over the millennium weekend, he played host to the Williams World Challenge, comprised of twelve of the top players in the world playing for $3.5 million, with proceeds going to the Tiger Woods Foundation and the Payne Stewart Memorial Fund. He was dutiful, making appearances at pro-am parties and schmoozing with the corporate honchos. Clearly, though, it was something he endured rather than enjoyed. "I never thought it would be this much work," he said. "Next year I'll make some adjustments, and I'll kind of delegate everything else to other people."
If that sounds churlish, consider that the last thing the world needs is a domesticated Tiger. "Ceremony never did conceal . . . how much we are the woods we wander in," wrote the poet Richard Wilbur, and that jungle is where Tiger rules. His destiny is to conquer freely and ruthlessly, like the "different breed of cat" that he is. He enacts golf's version of our primal dream, and in that way, it turns out, we know him very well.