PROFILE:
PAULA ZAHN: HOST, FOX NEWS CHANNEL'S THE EDGE WITH PAULA ZAHN
AGE: 45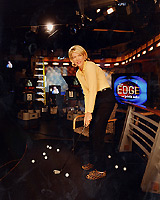 HANDICAP: I played to a six or a nine in college. Now, no handicap is large enough to compensate for my lack of practice.
BEST PART OF GAME: I'm fairly consistent off the tee with my fairway woods--they haven't completely betrayed me.
BEST SCORE: One of my proudest moments was breaking eighty on the Blue Monster at Doral.
FAVORITE PIECE OF GOLF ATTIRE: My handy-dandy golf towel given to me many years ago by James Garner, and my faux leopard golf shoes. When I was on vacation in Colorado, I got a call to join a foursome with Kevin Costner. I had nothing with me, so I ran to the pro shop and they were the only pair that fit. I trekked to the first tee, never having met Kevin, and the first thing he said was, "You sure as heck better know how to play if you're going to wear those shoes." So I wear them all the time.

FAVORITE PARTNER: Willie Nelson. I played in a Texas pro-am with him in the eighties--one of the most fun, bizarre rounds I've ever played.

HOW GOLF HAS HELPED YOUR CAREER: When I was at Stephens College, I was a student representative for our board of curators, and the board president was also the president of CBS Radio. When he found out I was on the golf team, he invited me to play. The contact I made that day on the golf course was my prelude into several internships at CBS, where I captured the attention of news directors along the way, and that helped lead me to my first job in broadcasting.
MEMBERSHIP: None. I've been lucky, because I've played golf all over the world. I've played golf in Kenya, in Moscow during an arms summit, and in Scotland, England, France and Spain.
CLUBS: Big Bertha woods, Ping irons. And an old Wilson putter that I haven't been able to give up since I was thirteen. It was my first putter and a gift from my father, and though it's betrayed me a bit lately, it's done me proud.
HOME SWAPPING NETWORK
There's no place like home--except maybe someone else's. That's the whole idea behind the web site called trading-homes.com/golf , which allows golf travelers to feel at home when they're on the road. Here's how it works: Browse the site's more than two thousand home-exchange listings, which include information about location, amenities and nearby attractions. Then, after becoming a member, create your own listing, specifying what you want in terms of a trading partner (e.g., preferred destinations and desired length of stay). You'll also gain access to other homeowners' contact info. (Membership is $65 annually; $95 for online services plus a subscription to the company's three printed directories.) You and your trading partner set up the actual arrangements; the web site facilitates the swap and offers suggestions for arranging acceptable exchange terms. Potential perks of the service include rubbing elbows with locals (some people have set up golf privileges and playing partners for guests) and saving money on hotels, restaurants and, if your host agrees to an auto exchange, a rental car. Call 800-877-8723.
GOLFER'S JOURNAL: A POWER OF TADPOLES
Want to find the true essence of the game? Watch a child play it.
by Tim Nolan

AS SEVEN-YEAR-OLDS GO, WILL IS SMALL, SO HE fights the weight of the club head more than I'd like to see. But his swing proves that if you set up right and return the club to the ball in the start position, it's going to work out. He hangs on nicely, balanced, head behind the ball.
Click. "How'd that feel?"
"Good." He hints that he'd like to go nine today, and that the pro shop has candy in the cold box. I know the gambit: nine holes for Dad, Snickers for Will. It's a serious offer.
On the fourth tee, he's got to fly a little water. Last year he hit wedges toward the near bank. Now he goes for it with the driver. Today it's a little off the toe and wet. We search. No ball, but a power of tadpoles zigzag to safety, and we spot a muskrat, its mouth full of bright-green grass, gliding across the pond.
The tadpole frenzy, the swimmer, the life of a pond, are straight out of his books. He is riveted. This, I realize, is better than a great shot. He's oblivious to so much of what plagues me. The scoring, the mechanics, the bouts of frustration. He's attentive to so much--muskrats, the bluebird houses on the course, the workings of ball washers--that I take for granted.
On our last hole I stop to watch him, this brightest of all things. Will is becoming a golfer, and so strides steadily, Sunday bag on his back and plenty of bounce left in his step. Golf is a child's game at its best. Pros teach us our swings, but we should watch our children if we really wish to learn about the heart of the attraction. Golf is really about unexpected ecstasies. I had no hole in one today, but Will is bursting. I know what he'll tell his mother about tonight: tadpoles, identical to the ones he's seen in books. A perfect moment for him, and for me, the feeling that today I was lucky too, lucky enough to chance upon my child aglitter with pleasure in his world.
EXECUTIVE FILE: TOM MENDOZA
PRESIDENT, NETWORK APPLIANCE, INC.
AGE: 50
HANDICAP: 14.5
HOME COURSES: The Reserve (Palm Springs, CA) and Cordevalle (San Martin, CA)
FAVORITE COURSES: Kapalua, Cypress Point and Shadow Creek
YEARS AS A GOLFER: 10
CLUBS: Custom irons and Callaway Great Big Bertha woods
FREQUENCY OF PLAY: Three weekends a month
Tom Mendoza has been having a lot of fun lately. His company, Network Appliance, is one of the fastest growing in Silicon Valley. Even competitors are awed by the pace of the company's sales growth--its stock has jumped a jaw-dropping 3,137 percent since the mid-1990s. And Mendoza, who recently donated $35 million to the business school at Notre Dame, his alma mater, predicts a rosy future. A green one, anyway: The fifty-year-old executive bid $650,000 at a charity auction to earn the right to tee it up with Tiger Woods two weeks after this year's Masters. Here, Mendoza talks about golf, business and what he'll be thinking about on the first tee with Tiger:
You made quite a splash with your bid to play with Tiger. Tell us how that came about.
I went to a charity auction for the Tiger Woods Foundation, Ronald McDonald House and a few other worthy causes. All kinds of things were being auctioned off: Arnold Schwarzenegger's Hummer, lunch with Shaquille O'Neal. I was determined to get the golf with Tiger. In the middle of the bidding, Warren Buffett (the legendary investor who heads up Berkshire Hathaway) stood up and said he'd forecaddie for the winner. I had to do it. So now I'm playing with Tiger at Isleworth with one of the founders of NetApp, our CEO and another friend of mine. Oh, and Buffett will caddie.
Doesn't the thought of teeing it up with the world's No. 1 player intimidate you a bit?
Not at all. Look, I'm the luckiest guy on earth. People in Silicon Valley sometimes act as if they're finding the cure for cancer. We're not. We're lucky to be in an explosive economy in an industry that's growing at an incredible rate. I know how fortunate I am. I think everything is about attitude and expectations. Tiger doesn't care how I shoot.
What do you think is the most common mistake you tend to make on the golf course?
If I hit a bad shot, I don't recover quick enough. I'm always stunned when I watch the pros do something really bad and then hit a sensational shot.
Translate that to business for us. What's your most common mistake on the job?
I tend to make decisions very quickly. In total, that's good because we get things done. Given that we're growing the business one hundred percent a year, we don't have a lot of time to sit around and talk about decisions. On the other side, however, sometimes a more considered approach might have been appropriate at that moment. But, in general, I live with the mistakes I make. For most people, the biggest mistake is that they don't make decisions.
NetApp, which makes data-storage devices that dramatically speed up the Internet, is growing so fast. How do you pace yourself so you don't burn out?
It's very important to have written, ninety-day goals. I ask myself whether the things I'm focused on are going to make an impact. My ninety-day plan includes spending fifty percent of my time in front of customers and working out at least four times a week. That's also why golf is important to me. I got hooked because it was intriguing enough all by itself; I didn't think about business. Some say the problem with golf is that it lasts four-and-a-half hours. To me, that's the good thing.
Do you talk business on the course?
Most times I don't. I like to enjoy the round and the person I'm playing with. I learn a lot about people on a golf course. People always say business is about people doing business with people. I've had a lot of tremendous relationships formed on the golf course that led to business later.
What other company do you most admire?
Cisco. We've modeled ourselves on them to a great extent. The original chairman of their company, Don Valentine, is the chairman of our company. I admire the way they've grown gracefully. Although they have tremendous market share, their business practices are not in question. They tend to do a lot of good things in the communities they do business in. They have extremely high expectations for their employees and they've always believed they were going somewhere special.
CLUBS & SCRUBS: HALF MOON BAY

The Club: Few golf courses on this planet can boast vistas that rival Pebble Beach. Half Moon Bay Golf Links is one of them, and with the March opening of the 261-room Ritz-Carlton, Half Moon Bay, it is destined to become an instant golf hot spot. Just a half hour west of the San Francisco International Airport, the classy, cozy oceanfront lodge is nestled between the eighteenth greens of two distinct Arthur Hills­designed championship courses: the tree-lined Links (7,104 yards) and the wide-open, Scottish-style Ocean (6,732 yards). The Ocean offers views of the blue Pacific from every hole, and both courses feature fantastic finishes.
The Scrub: For nongolfers, this 16,000-square-foot spa (full fitness center, cardio and weight-training equipment, and yoga and aerobics studios) is an experience in itself. Women will love the unique indigenous treatment like the Fresh Lavender Wrap or a Pumpkin Enzyme Peel--this is, after all, the pumpkin capital of the world! For golfers, well, put it this way: How good does a four-hands massage after a day out on the links sound?
The Rub: Massages, body wraps and scrubs run $70­$185. The Golf & Spa Package includes two nights, two rounds of golf, a massage, facial and additional treatment, plus amenities, for $1,675. Call 800-241-3333.
CHIPS AND PUTTS: THE GEESE POLICE
The greens are clean thanks to golfers' new best friend, the Border collie. This canine is now herding birds--geese and coots--off golf courses across the country, including Westchester Country Club, Congressional and Brookline. Canadian geese and coots love golf courses because they love water, open space and short, tender grasses. A good goose dog can round up these federally protected birds without touching or hurting them, eventually forcing them to move elsewhere. Courses pay from $3,000 to $4,500 for a fully trained Border collie, but the results are swell if not slobbery. "Not only are they great working dogs, they become great club mascots. Members love our dog, Trim," says Siwanoy Country Club's Dave Mahoney. For more info, visit seclusival.com or geesepoliceinc.com .
DRIVING RANGE: A FIRED-UP LEXUSby Tom Jensen

LEXUS, THE LUXURY DIVISION OF TOYOTA, wants it all. Having successfully dazzled both the public and the pundits with the stunning quality and all-around competence of its various luxury models, Lexus is now aiming squarely for the heart, soul and--dare we say it--libido of the well heeled. For the 2001 model year, Lexus is going all out to erase the lone major criticism of its products: That while they are brilliantly engineered and impeccably crafted, Lexus models lack the passion and je ne sais quoi that separate the great from the merely really good.
For example, Lexus's flagship sedan, the LS 400, earned the reputation for being the best built premium luxury car sold in the United States, but one devoid of inner fire. Or to put it another way, it combined the build quality of a Swiss watch with the personality of Swiss cheese.

But all that's changed for 2001.

Lexus is rolling out the heavy artillery this year with the all-new LS 430, the third generation of this model. Lexus officials call the design of the new LS 430 "edgier," a word used in conjunction with this class of sedans about as often as it is with, say, Kathy Lee Gifford. But edginess, I suppose, is in the eye of the beholder. Where the LS 430 gets seriously edgy is under the hood. There is a new 4.3-liter V-8 to replace the old 4.0-liter engine; hence the name change from LS 400 to LS 430.

The new 4.3-liter V-8 truly is remarkable, providing gonzo levels of horsepower--290 horses, to be exact--with turbine-like smoothness. You can rip off zero-to-60 mph runs in just 6.3 seconds, yet the LS 430 qualifies under federal standards as an ultra-low-emission vehicle and gets twenty-five miles to the gallon on the highway. As guilt-free lust goes, this is about as good as it gets.

If you have the mind, you can burn up the road like a juvenile delinquent suffering from a severe case of arrested development, yet still be secure in the knowledge that tree huggers love you and your $60,000 sedan.

Put bluntly, the LS 430 offers an impressive combination of balls-out power and fun married with luxury and sophistication second to none. The LS 430 also serves up plenty of gee-whiz technology. Its Dynamic Laser Cruise Control collects data from 630 scanning points in front of the car and uses it to decrease or increase the car's speed to keep it a set distance behind the vehicle in front of it. Another option, something Lexus calls Intuitive Parking Assist, is a set of ultrasonic sensors that sound a warning if you're about to swap paint with some lesser form of automotive life. The navigation system in the LS 430 is DVD-based, which Lexus claims is a big step. I didn't notice all that much difference, but I'll take their word for it. The interior leather and wood have been improved from merely stunning to breathtaking.

Seriously anal-retentive buyers will be psyched to know that the sheet-metal fit of the LS 430's various new body panels is now measured to one one-thousandth of a millimeter. Lexus officials gleefully note that that fit is ten times more precise than their old standard--one one-hundredth of an millimeter. What a relief!

But the best thing about the new LS 430 might be its optional audiophile-grade Mark Levinson sound system, which will let you thrill to every breathtaking nuance of a Vivaldi concerto as if you were seated in the orchestra pit.

If safety is an issue for you, fear not. The LS 430 comes with front airbags, side airbags and front- and rear-side curtain airbags to protect your head in the event of a collision. Naturally, these parts adds up to a truly impressive whole, a benchmark luxury sedan that at last has the soul to match its mechanical and technological goodness. You can spend a lot more on a luxury sedan, but I'm not sure you can get any more.