MJ tackles Tiger's game in the Bahamas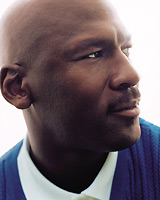 interview by John Atwood
photographed by Pamela Hanson
Paradise Island, the Bahamas: The Ocean Club is buzzing.
Walkie-talkie static crackles through the air, and local volunteers and hired hands chatter and shoot glances back and forth. But the excitement is not because Jack Nicklaus, Tom Watson and other linksland luminaries are here for the opening of Tom Weiskopf's new course on Paradise Island. No, the Bahamian hoi polloi has been stirred out of its island insouciance for the arrival of an even brighter light . . .
Michael is coming.
A security detail materializes, peers behind every door and stakes out a corridor through the clubhouse. Then a limo pulls up to the bag drop and out steps His Airness, entourage in tow. Smiling and handshaking his way through the veranda, he greets his interviewer, then hops onto a cart and speeds off down the eighteenth fairway. An excited, middle-aged local woman wants to know where he's going, and it is explained to her that we're taking his photo out on the seventeenth green.
"You gone to take Michael's picture in a tong?" she asks.
A what?
"A tong," she repeats.
A wha. . . . Oh, a thong! No, actually, we're just . . .
"Too bad," she says with an expanding smile. "I'd like to see a picture of Michael Jordan in a tong."
Alas, no such luck. Upon his return to the clubhouse, however, I am able to sit down with him and discuss his post­Chicago Bulls golf life--which hasn't turned out exactly as planned. While still a basketball player, Jordan had his handicap as low as four, and spoke of plans to play golf more seriously during retirement, possibly readying his game for the PGA Senior Tour. It's what he may have wanted; it's what we may have wanted; certainly, it's what the PGA would have wanted . . . but sorry, folks, it ain't looking good. His duties as president of basketball operations for the Washington Wizards keep him off the course more than he'd like, and even worse, a freakish cigar-cutter accident three years ago has permanently injured a tendon in his right index finger.
But shed no tears for MJ. Jordan still finds plenty of time both to play golf and to visit Paradise Island, where he is a familiar figure at the Atlantis Casino. He held his celebrity golf tournament here in January, and is building what will no doubt be a nice little house on the choicest spot on the Ocean Club Golf Course, out by the sixth green, with the Atlantic lapping at his backyard.
In other words, it's still nice to be like Mike.
Michael's grip
T&L Golf: When did you start coming to the Bahamas?
Michael Jordan: About five years ago. I just fell in love with it. I come every year and stay here at Atlantis.
How do you like the new Ocean Course?
It's great. I love it. I played the old course many times, and what Tom [Weiskopf] did is beautiful. It's a lot tougher than it looks. Being able to play this golf course and having a house here? I love it. Tell me about your tournament.
It was a big success, a lot of fun. There were so many great moments. We raised a half-million dollars for charity. Everybody had a great time, and we're going to make it even bigger and better next year.
As host of the event, did you get to pick your partner?
No, we teamed players up by handicap, putting the best ones with the weaker ones. I ended up with Coach [Dean] Smith, and we did okay [they tied for sixth]. I was just happy I didn't have to play with [Charles] Barkley. He's that bad. In fact, I think we've got to get special insurance for next year if Charles comes back. Remind me of that.
Okay. So, how's the finger? Has the injury affected your golf game?
A little bit. I haven't been able to bend it, so I can't pinch the club. But somehow I've been able to make some adjustments.
Is it ever going to get any better?
No. It's always going to be this way. I'm stuck with it. But I'm not good, anyway, so it doesn't really matter.
Well, you have to have a light grip . . .
It helps with the putting more than anything. And if I can walk onto the course with a bad finger, then I figure I can get a few extra shots.
At one time you toyed with the idea of playing the Senior Tour, but you've backed off that idea, yes?
Yes. I've come to the realization that I'm a hack, so I might as well just stay with that. At least for now, anyway. But I still enjoy the game. It's fun and it keeps me challenged. Not that I don't have other things that challenge me, but when I'm playing golf, I'm relaxed and focused. Though I get frustrated left and right. I never throw a golf club, and I never really swear, but it does drive me nuts.
Since you stopped playing basketball, how has your involvement in golf changed?
I'm playing less because of my other jobs.
That's not the way it was supposed to work, was it?
It wasn't. I do get a chance to play a lot, but not nearly as much as I did.
You took a big trip to Europe last year, right?
Yeah, I took twelve guys and we went and played close to two weeks in Scotland and Ireland. We played practically every golf course that we could, thirty-six holes a day, and by the eleventh day, everybody was just dead tired, so we didn't even play on the twelfth day. We just hopped on a plane and came home.
Was that the first time you had had enough golf?
Yeah, we were conked out. But I'm going back for the Ryder Cup. We'll play a couple of days in Scotland and Ireland before we go over to England for the tournament.
What was your favorite course over there?
Waterville, probably. I love Waterville. Druids Glen was really more like a Midwestern golf course; it didn't seem like we were in Ireland. I enjoyed St. Andrews. Royal Dornoch is a great golf course. . . . What's the course that's on the ocean that they say is comparable to Pebble?
Old Head?
Old Head. Loved the Old Head.
And your favorite courses in the States?
Augusta, Shadow Creek, Medinah, Pebble Beach . . .
That's a nice rotation to be able to play.
I know. I'm lucky.
Let's talk about Tiger. Tell me a little about your friendship with him.
It's like he's a little brother. He calls me all the time for advice about different situations, and we talk about a lot of things. He's a fitness fanatic like I am.
Did you talk to him about his flap with Tim Finchem and the PGA last year?
No. I think that was something that he and his people felt they had to address. I didn't know anything about it until I read about it. We don't talk about everything. Quite naturally, I think he tries not to get me involved in areas that may be controversial. But financial things, some business decisions, a lot of personal things, we talk about. We enjoy each other's company. But I don't consume myself with Tiger, and he doesn't consume himself with me.
What advice has Tiger given to you about golf?
[Laughs] He gives me a lot of instructional advice, but the thing about instruction and me is, I don't have time enough to practice. Tiger's a big-time practicer. People wouldn't think that. You think he's just talented. But he can win a major tournament and on Monday he's right there practicing. Me, I'm a player, and because I have very little time to play, I don't practice as much as I probably should.
Have you ever gotten Tiger out on a basketball court?
Believe me, and I tell Tiger this all the time, I've got a better chance of beating him in golf than he does of beating me in basketball. It's just that simple.
Do you approach golf differently than basketball?
In golf, normally, I go through a checklist . . . which is probably my biggest problem. It's a little different than basketball. In basketball, a lot of times your instincts take over. In both sports, you build habits over time, but in basketball, you don't have time enough to think. Instinctively, you have to react. Playing golf, I guess I have too much time to think about it, too many things to go through--the checklist.
Is it true that when the game is on the line and you've got to make a putt on the eighteenth green, that's when you play your best?
You know, my concentration goes up a whole lot, 'cause you've got to do something--it's do or die. That's very similar to basketball. So I guess that's when I'm able to take a lot of the thinking out of it, because it's either one or the other--it's a fifty percent chance, either you make the putt or you miss it. That's just simplifying the circumstances, and I guess that's probably when I play my best, when I can simplify the thought process instead of going through the whole checklist.
What's your best score?
Sixty-eight. I just shot it recently at Lake Shore in Chicago. Although I also was five under after twenty-seven holes at Bob O'link.
Current handicap?
I guess a seven right now.
And where are you a member?
In all honesty, I'm over the fourteen-club limit, so let's just leave it at that.
What clubs are you playing these days?
Maxflis.
Do you have a position on the illegal-driver controversy?
I don't think you should use it in competition, but I think amateurs should have the experience of hitting a long tee ball. In terms of playing competitive golf, however, I don't think it's right to use.
If you could make one part of your game better, what would it be?
My tee ball. If I could hit my tee ball straighter, [because of my length] I'm hitting wedges and short irons to the green.
Are you an aggressive putter?
Yeah, I am, actually, though I'm not quite as bad as Tiger. I think Tiger is way too aggressive. They say that when you putt, your putt should be six inches past the hole, and his is a foot and a half. But whatever works.
Did you ever play with your dad?
No, my father never played. I was the only one in my family who picked up the game. And it was late, in 1984, which probably is to my credit, because if I had played golf I probably wouldn't have played basketball--that's how much it drives me crazy.
How about your sons (Jeffrey, age twelve, and Marcus, ten)? Are they interested in golf?

They're basketball players mostly.
Do you see any special attributes in their games?
Oh, they've got skills. They both shoot the ball left-handed, totally opposite of me. Which is good. I want them to be as different from me as they can be, but I'd love to see them have similar success. Right now, they don't really know what I did; they just love the game.
And golf?
They like golf. And I make sure they get an opportunity to participate. But you know, kids at my kids' age, it's hard for them to hone in on one thing. You just let 'em touch everything, and when they get old enough and understand, they'll pick one sport and focus in on it.
Who do you most like to play with?
Charles [Barkley] and Roy Green, those characters. Ahmad Rashad. But I only play with Barkley; I don't gamble with him.
Who has a hard time paying up on the eighteenth green?
That's tough. Roy Green, probably. He's the biggest chump. He's gonna love this.
Any of Phil Jackson's Zen teachings translate to golf for you?
[Laughs] Actually, I can see where you can have Zen practices in golf, because of the mental challenges, but I haven't gotten to that stage yet.
Last question: Dream foursome?
[Long pause] Can I make it a fivesome?
Sure.
Arnold Palmer, Jack Nicklaus, Tiger Woods and Bobby Jones.
And where would you play that round?

[Another long pause] In the Bahamas, where else?

ELEVATED TEE: THE OCEAN CLUB
When Sol Kerzner, chairman and CEO of Sun International, wants to do something, he doesn't pussyfoot around. Twenty years ago, for example, when he wanted to throw a golf tournament, he started the Sun City Million-Dollar Golf Challenge. For a Bahamian getaway, in 1994 he bought and expanded the fantastical 2,400-room Atlantis resort on Paradise Island. And now, to redefine the luxury resort experience, he's poured $100 million into the same island's historic Ocean Club--which already was a pretty swell place.
Let me confirm that Kerzner knows what he's doing. For openers, he completely renovated the existing property and added a new wing of forty rooms and ten suites, each with an oceanfront terrace. All of this was done with exquisite taste and anticipates every imaginable desire, from DVD players to butler service. He has also opened up a new restaurant--but not just any restaurant. Kerzner convinced Jean-Georges Vongerichten, superstar chef (Vong and Jean-Georges in New York City), to open a beachfront establishment in a building designed by Christian Liaigre. Using the local catch and his international sensibilities, Jean-Georges has created a dining experience that may be unmatched in the region.

But most important--for our purposes, anyway--Kerzner asked Tom Weiskopf to rip out the old golf course and install one of the top one hundred layouts in the world. When I played it with Weiskopf, he deferred that designation to time and the course raters. He clearly is pleased with the layout, however, which on the day it opened was one of the finest in the Caribbean, tracing a rolling, imaginative route across the seaside links. But don't take my word for it: Ask Ernie Els, who has signed on to be the playing pro.

When the full-service spa is completed this spring, the new Ocean Club will be as splendid and complete a luxury golf resort experience as you will find. Rooms start at $635 per night, $1,100 for suites; call 800-321-3000 or visit www.OceanClub.com . �JA