By Tom Mackin
Senior Writer,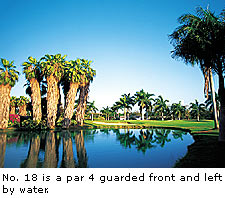 MONTEGO BAY, Jamaica (March 10, 2004) -- Shortly after joining The American Society of Golf Course Architects in 1974, Roger Rulewich traveled to Jamaica to attend the group's annual meeting. As he recalled it recently, the gathering was held in a hotel next to the airport in Montego Bay on the country's northwest coast.
Discussions were frequently drowned out by the sound of planes taking off and landing nearby. Rulewich, who would serve as the group's president in 1988, would return to Jamaica a few times over the years looking at potential course sites, including one near Negril so full of briars and brambles that he surveyed the land on horseback.
But it's not until this summer, 30 years after his initial visit, that Rulewich will finally return for some hands-on work. He'll be performing some much-needed remodeling of the Half Moon Golf Course, designed by his mentor Robert Trent Jones Sr. and opened in 1961. The layout is part of a classic Caribbean resort of the same name that, like Rulewich, is celebrating a few anniversaries and some remodeling of its own.
Having opened 50 years ago with a mere 17 cottages, Half Moon now has more than 400 rooms and suites adjoining the Caribbean Sea. The 400-acre property, located just a 15-minute drive east of Sangster International Airport, has seen its share of celebrity guests, including royalty like Queen Elizabeth and her son Charles. But it still has a low-key, relaxed atmosphere and a memorable oceanfront setting.
It's hard to argue with Half Moon's reputation as one of the most complete resorts in the Caribbean, one awarded four diamonds by AAA for 20 consecutive years. In addition to the golf, there are 13 tennis and four squash courts, multiple swimming pools, a croquet lawn, putting green, jogging and cycling trails, basketball and volleyball courts, an equestrian center, a fully-equipped nautilus gym with personal trainers, gourmet dining and complete spa facilities.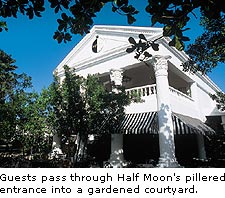 In 1994, the Royal Villas were added to heighten the level of luxury, featuring five-, six- and seven-bedroom villas with landscaped gardens, private pool, and dedicated service staff at guests` disposal. The resort even has its own shopping village with a variety of stores for both souvenir hunters and serious shoppers.
And just last year, more than $8 million was spent on a number of projects, including the refurbishment of rooms, restoration of the famous crescent-shaped beach that gives the resort its name, enhanced landscaping, and upgrades to the locker rooms and pro shop at the course. Also added was a David Leadbetter Golf Academy, located within the clubhouse.
As for the golf course, Rulewich's work will be done nine holes at a time, starting this June with the current back nine. "We'll be rebunkering the entire course, putting some shape back into them that has been lost over the years," he said. "They've become rather plain over the years, which is not uncommon for older courses. We'll also be enlarging and repositioning some as well."
There will be some tree removal and plenty of work on the tee boxes, which currently reflect the trademark design of Jones Sr. "We'll be breaking up a lot of those runway style tees Jones was famous for, and moving some others," said Rulewich, who added that there are no plans for rerouting the course.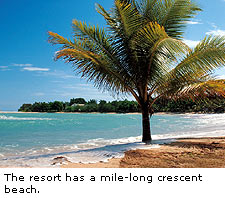 Unlike a lot of older courses worldwide that Rulewich and his team work on, there aren't plans to significantly increase the yardage, which is currently 7,119 yards from the championship tees. "I don't think Half Moon really needs that," said Rulewich, who estimated the work on the back nine should take approximately eight weeks to complete. "There will be some yardage added where it makes sense, including on the 18th, which at 373 yards is a short part four now. We will be pushing the tee back there substantially."
Rulewich, who has visited the very walkable course three times already, will take a hands-on approach to the remodeling effort. "We've gotten some mapping of the course, which we'll utilize to an extent. But it's pretty much done by eye, and I'll be there to work with my own shapers. We'll make a lot of decisions while we're there, and work from the sketches I do.
In the end, Rulewich acknowledged that it's impossible for Half Moon to keep up with its two neighboring courses, both visual stunners. "We can't make Half Moon into a White Witch or Cinnamon Hill , but I think we can give it a lot more appeal and make it more playable," said Rulewich, whose previous Caribbean experience includes courses in St. Croix, Martinique and Guadalupe. "I'm looking to spark up a good golf course. It's not as flat as even I anticipated. It's on more level terrain than the other two layouts, but there's some contour out there and I think we can give it a new look."
Where to stay
Room and suite rates at the hotel range from $390 to $1,190 per night, depending on room and season. When booking accommodations, ask for one close to the resort's main building. Rooms and suites are spread out here, and those located at the farther ends of the property require a bit of a walk. Or splurge for a Royal Villa and let your own butler do the walking.
2004 Golf Packages: $100 per person, per day, year round, includes 18-hole green fee, caddy fees, driving range and balls, 18-hole putting course, use of croquet courts, manager's cocktail party, and use of fitness center and tennis courts. An hour lesson with a David Leadbetter Golf Academy Instructor is $125.
Where to dine
At the resort, go upscale and Italian at Il Giardino or more local at the Seagrape Terrace. Grab a post round lunch or come back for dinner at The Sugar Mill Restaurant, just a wedge away from the front door of the clubhouse. Begin or end each evening at Lester's Bar, part of the resort's open-air lobby, with a view of the Caribbean and the sound of reggae often filling the air.
The verdict
While the Half Moon course does need some updating, it's still a decent challenge (especially if the northeasterly winds are blowing on half of the holes) and a pleasant walk. Wait until this fall and you'll benefit from the always stellar work of Rulewich. Caddies are mandatory and provide plenty of stories in an accent that may take you a few holes to get used to.