By Carla Harvey,
Staff Writer,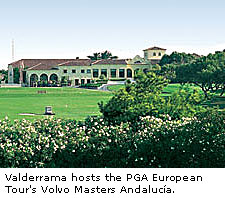 SAN ROQUE, Spain (May 27, 2004) -- Valderrama Golf Club is Andalucia's answer to Augusta. A private club, it offers nine visitor's starting times a day between noon and 2.00pm. Visitors ' Green fees are 30,000 pesetas per player or 26,000 pesetas for group bookings of 12 players.
Nine starting times may seem a parsimonious gesture on the owner's part, but the last thing Jaime Ortíz-Patiño wants is for the course to repeat the history that preceded its existence.
In 1976, the old Sotogrande course (Real Club de Golf Sotogrande) was attracting enough golfers to make teeing off tedious.
A small group of residents sensibly decided that the ideal solution would be to create their own course: it was fortunate for Spain's golfing profile that they had the energy, time and money to carry the idea through.
Jaime Ortiz-Patiño recognised Valderrama's potential when he first saw the course. "I like perfection and I knew that this was a great course. It needed investment and it needed more land and it needed its architect to come back and re-model it, all of which we were able to do. Robert Trent Jones (Senior) was the architect. It was his third course in Europe. He loved this course and he worked with me over five years from 1985-90 to make it a championship course. We're now voted number one in Europe; we're among the top 60 in the world."
The care lavished upon the course has resulted in a perfect coupling of natural attributes enhanced by man.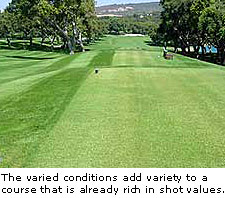 Spain's most famous club has been host to some of golf's finest tournaments. For nine years, Valderrama was home to the PGA European Tour's grand finale, the Volvo Masters. Then came the 1997 Ryder Cup when millions of viewers watched Europe's top players defeat their American counterparts.
For the Ryder Cup to have been held on Spanish soil was a triumph for the course and its owner. It was a 'first' - the only time the Ryder Cup had been played outside of Britain and the United States.
"When it was decided that the Ryder Cup would leave England and come to Spain on this first occasion, I put a bid in and very luckily - or because of hard work - got it. The Ryder Cup is the greatest event on the golfing calendar and it's a wonderful promotion for tourism in Spain. The Costa del Sol is also the Costa del Golf."
In effect, Mr Patiño's successful bid stimulated a mini boom in real estate that continues to this day. Television captured the lushness of the vast Sotogrande estate and attracted investors from all over the world.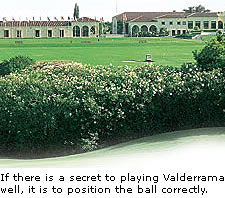 The cork trees, verdant fairways; stunning views of the countryside and Mediterranean all indicated a favourable micro-climate, where year-round golf was a fact of life.
Fred Couples' first glimpse of Valderrama evoked an almost reverent "Awesome". And so it is. Some magnificent holes stand out for their beauty; others are cursed for their hazardous challenge.
In this latter category is the 17th , where the air has a hazy blueness about it - the legacy, no doubt is of decades of whispered profanities. Number 4, known as 'La Cascada' (the waterfall) is considered one of the best holes in Europe.
A Par 5 with a water hazard between two big bunkers and the green (two more bunkers tease golfers off to the right of the green), number 4 demands and gets respect.
If there is a secret to playing Valderrama well, it is to position the ball correctly. A drive of 250 yards will be worthless if it lands on the wrong side of the opening through to the green. And there are trees everywhere. They have been left in place where other clubs would have felled them.
The giant cork-oak in the middle of the second fairway is a prime example. Says Patiño, 'It's been there about 150 years, so the golf course must adapt to it, not the other way around.'
This attitude has perhaps shaped the character of the course more than any other element, for Valderrama is above all, a natural beauty.
In November, 2000, Valderrama hosted the American Express World Golf Championship for the second year running. What lies ahead? Speculators in golf circles consider possibilities: the US Masters, The World Cup, 'an elite invitational'?
While Jaime Ortiz-Patiño ponders the future, the course continues to attract world-class players.
Other golf clubs in the immediate area are Real Club de Golf Sotogrande (among Europe's top ten courses), La Cañada (another Robert Trent Jones course), and Almenara, the newest Sotogrande course by Dave Thomas.
The clubhouse restaurant features fine food and carefully selected wine. One of Patiño's minor ambitions has been to be awarded a Michelin star; his wish is reflected in the offerings. More informal fare can be found in several bars and restaurants located at Galerias.
Paniagua, a cheerfully attractive little complex within Sotogrande perimeters. Reasonable prices and the presence of the English language are added attractions. Head for the harbour to find a wide variety of watering holes from the simples of tapas bars to Italian trattorias to haute cuisine.
Puerto Sotogrande is certainly one of Andalucia's prettiest yacht basins, for architects followed the French Riviera style when designing it. Great summer nightlife flourishing here; in the winter, peace and quiet reign.
Sotogrande has a clean, wide beach, some good beach bars (called chiringuitos) and varied selection of water sports. Equestrian centres can be found both on and off the estate, and from April to October
Valderrama Golf Club
Address: Avda. de los Cortijos,
11310 Sotogrande, 11310 (Cádiz).
Access road is off CN.340 and it is clearly marked.
Tel: 956 791200
Fax: 956 796028