By Carla Harvey,
Staff Writer,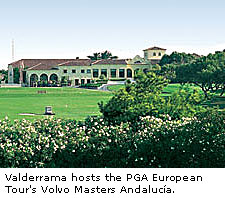 BENESOV, Czech Republic (Nov. 17, 2004) - The Archduke Franz Ferdinand was a hunter, not a golfer. During his reign over the Austro-Hungarian Empire, the old boy jammed his former home, Konopiste Castle, with countless stuffed trophies and antlers. Today visitors to the Baroque castle here in Benesov, some 25 miles (40 kilometers) southeast of Prague, will find an entire wing devoted to his quest for prey.
One can only guess that, had the Archduke any notion he would (rather ironically) meet his maker at the end of a gun barrel, he might have taken up golf instead. An assassin gunned him down in Sarajevo in 1914, touching off World War I.
His impressive castle remains the primary attraction for tourists in this small Bohemian town. For the past few years, however, there's been a steady stream of visitors who bypass the castle, driving by with a steely glint in their eye not unlike Ferdinand's when he went off to bag a boar or buck. Their weapon of choice, though, is not the rifle but the club (14 of them, in fact) and their destination most definitely is not the woods. In fact, for those heading to Golf Resort Konopiste, the woods is the last place they want to be.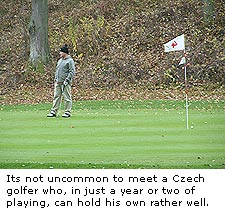 Golf Resort Konopiste is among the newer 18-hole courses in the Prague region, having opened in July of 2002. The resort boasts a 7,091-yard, 18-hole track for members, hotel guests, and visitors with a valid handicap card. There's also a public nine-hole course and a second 18-holer is slated to open sometime in 2005.
The courses and practice facilities surround a renovated country manor dating back to the 10th century. The building houses a golf shop, reception desk, and restaurant, with hotel rooms and conference facilities upstairs.
The 18-hole Radecky course offers a fun - and fair - test of your game. There are a few eye-opening holes but for the most part it is a rather forgiving track. Long hitters have a chance to shine yet the rest of us high-handicappers needn't tremble.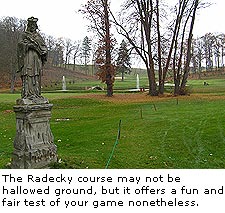 The first three holes, a par 5 followed by a pair of par 4s, are long, straight and open, with only token hazards. They make for a nice way to ease into your game.
Things get a bit more tricky, though, once you leave the third green and follow the path through the woods to the fourth tee.
Coming off the tee on this par-5 is like driving down a narrow lane, with tall trees densely lining both sides and a ball-hungry creek in front of the trees on the left, just for good measure.
Czech businessman Vladimir Drizhal, who took up the game three years ago and now plays most weekends, says he dreads this hole. "Once I finally get onto that green, I know I can settle down and enjoy my round," he says with a laugh.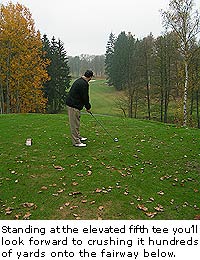 From the fourth green, you face a steep climb up - and up and up - to the elevated fifth tee. After the near claustrophobia of the fairway on no. 4, it's elating to stand up this high and look forward to crushing your ball hundreds of yards onto the fairway stretching out below. Naturally, though, at this height, wind comes into play and if that little slice you've been battling rears its ugly head, a team of Archduke Ferdinand's best hunting hounds won't be able to track down your ball.
The members at Golf Resort Konopiste take the game rather seriously and its not uncommon to meet a Czech golfer who, in just a year or two of playing, can hold his own rather well, dekuji . Drizhal points out that 15 or 20 years ago tennis was all the rage here. Then came squash. "Now it seems like the whole nation is trying to play golf."
"After the revolution, it had the label of high class fashion," he said. "But now it's more about passion than fashion."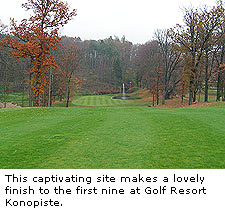 It's nice to see a high number of women playing here, and even some kids. A word of warning, however: While they're open to golfers of all sizes and genders, folks here take one local rule very seriously. A tiny sign about halfway between the ninth green and the 10th tee warns you to not even think about stopping to pick up a frosty beverage or sandwich at the grill room. If you dare, be assured that at least one group, if not more, will scuttle past, leaving you holding a dusty sandwich and wondering if anyone here ever gets hungry.
After watching two groups scurry by, intent on punishing our transgression, a charitable duo offered to left us join them for the back nine.
The second half starts with a miniscule par 3 and is highlighted by a mammoth par 5 at no. 12. This hole doglegs hard to the right, daring you to carry over a patch of farmland (a word to the wise: don't).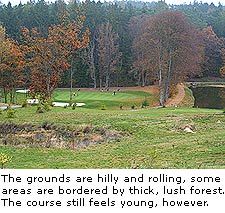 The fairways at Golf Resort Konopiste are hilly and rolling and some areas are bordered by thick, lush forest. The course still feels young, however, with a number of fairways divided by hardwood saplings. As the foliage matures, the course will have a better feel. The large greens are well-manicured and slope here and there, just enough to keep you from getting complacent.
While the clientele is primarily from Prague and other nearby Czech towns, the resort has a strong following of international businessmen working in Prague. Don't be too surprised if you could find yourself in a group with players from the U.S., England, Holland, Scandinavia or Japan. And if you're with Czech players, you may find that, in addition to their game, they're eager to practice their English which is likely quite fluent.

The verdict
Of the public courses near Prague, Golf Resort Konopiste is the tops. It's clearly new but, given time, it should blossom into a wonderful facility that provides an affordable round of golf in a uniquely central European setting. Given its proximity to the city and its lovely clubhouse, the course here sees a steady stream of tournament and recreational traffic from April until November, depending Mother Nature's mood. If you're not a Golf Resort Konopiste hotel guest, you'll need to show a handicap card to play the Radecky course, although even if you forget to bring yours along, it's worth calling ahead to try to sweet-talk a tee-time. If your time is limited or you have non-golfers in your party, consider dropping them at Konopiste Castle and then playing nine.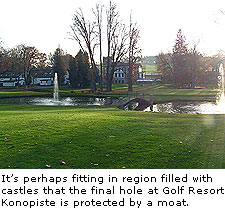 Cost
At an exchange rate of $1-24 Czech Crowns, a round on the 18-hole Radecky course ranges from $65 to $85 in the high season, depending on the day of the week. Off-season rounds are $34 for weekdays and $42 for weekends.
A round on the nine-hole course ranges from $15 to $19 in the high season, depending on the day of the week. Off-season rounds are $34 for weekdays and $42 for weekends.
Special prices for under-15s.
Where to stay: Golf Resort Konopiste has onsite accommodations, both apartments and double rooms. Many visitors opt to stay in Prague, less than an hour away.
Prague Hilton
Pobrezni 1, Prague 8.
Phone: (420) 224 841 111.
On the web: www.hilton.com.
Corinthia
Kongresova 1, Prague 4.
Phone (420) 261 161 111.
On the web: www.corinthia.cz.
Diplomat Hotel Praha
Evropska 15, Prague 6.
Phone: (420) 224 394 111.
On the web: www.diplomat-hotel.cz.
Four Seasons Hotel Prague
Veleslavinova 2a/1098, Prague 1.
Phone: (420) 221 427 000.
On the web: www.fourseasons.com/prague.