By Andrew Resnik ,
Correspondent,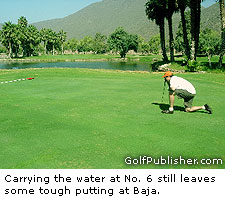 ENSENADA, Mexico (Nov. 02, 2005) - Nine a.m. seemed like the right time to set up a round of golf at Baja Country Club . It should be early enough to catch 18 more in the afternoon, but late enough to allow for the 45-minute drive from cushy Bajamar Golf Resort, on the other side of Ensenada in northern Baja.
It's fortunate the tee time wasn't sooner, as there might not have been anybody to open the front gate. On a recent visit, the parking lot was empty. There was nobody in the restaurant or golf shop. After procuring a bottle of water from behind the bar, this reporter poked through the remainder of the building, trying to contact someone and announce a desire to play golf. Eventually, a cheerful man wearing a back support belt emerged from the maintenance garage, and said in broken English, "Just go play, we'll settle it up later."
Baja Country Club is very much in a state of transition. They want you to come out and play golf but it seems they don't really expect you to. To the extent that players come, they are a mix of Ensenada residents, a handful of folks from Tijuana, and an adventurous batch of Southern California road trippers.
In the 15 years since it was built, the course has seen some good times, and is currently emerging from more challenging times. Like many development projects in Mexico , it has changed hands more than once. Currently, a team of three developers from Rosarito Beach own the club and have big plans for it, which will be discussed shortly. They hired Antonio Candela to be golf course manager a few months ago and Candela is leading a major series of improvements.
"We want to make it a great course," Candela said. "The layout is wonderful, the raw ingredients are there, it just needs more attention."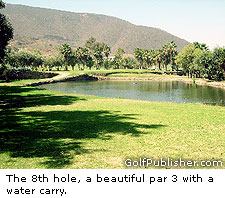 Candela has a point. The setting is peaceful and pretty: A valley surrounded by canyon walls draped in oak and manzanita, sort of a wine-country-meets-Mexico just a few miles in from the ocean. One could hardly complain about the traditional, country club-style layout, which flows nicely from hole to hole (easily allowing for walking) and has some creative architectural features. Plus, there is not a single home on the course - yet.
Now to those big plans: Baja Country Club has just begun an ambitious effort to build and sell hundreds of homes. Jose Luis Vasquez, marketing manager for Baja Country Club, is offering custom homes starting at $150,000 ($180,000 to be along the fairway). It's a bit speculative but the club is hoping to cater to the booming market of second homeowners who can't afford million-dollar condos in San Diego or Orange County. The price of real estate has roughly doubled over the last five years in this part of Mexico, mirroring the trends just north of the border.
To support the expected crowds, owners are expanding the clubhouse and adding a swimming pool. Three model homes are open. Already, a massive locker room with a hot tub, sauna, and floor-to-ceiling marble awaits future members.
Most importantly, they're aggressively bringing the golf course back to life.
"A year ago it was completely dry," Candela said. "We've now got a dependable new water pipeline and we're fixing up everything, from fairways to tee boxes to bunkers."
Backing up this claim, there were far more workers on the course than golfers, and the crews have their tasks cut out for them. The greens, while pleasing to the eye, are slower than the average city hall elevator. The fairways are difficult to distinguish from the rough, with blonde pieces of grass protruding everywhere (to be fair, the ball sits up nicely on the fairway, and truly bad lies are rare).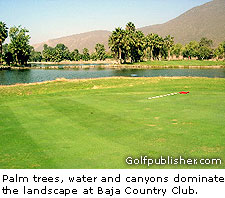 But the most amusing feature of all: mushrooms, growing in clusters, particularly abundant on the front nine. Strolling down the fairway, your first thought might be the bounty of neglected balls just sitting there. But a closer look reveals they aren't balls at all, and yours might actually be hard to find.
If this recent visit is any indication (it was a Monday), a round at Baja Country Club will take exactly as long as you wish. In the off chance you catch up to another golfer, he'll gladly wave you through.
Despite the imperfections, playing Baja Country Club is really pretty fun. Ira Daniels, a mid-handicapper who is quick to offer criticism, praised the overall playing experience.
"The place is pretty and peaceful," said Daniels. "Yeah, it's a little rough around the edges, but I'm definitely having a good time."
Because of the lack of crowds, you're free to play a number of holes a second time, just for fun. Consider the 6th hole: a shortish, very fun par 4 with an island green. The next hole is a longer par 4 with a forced carry to what might as well be another island green. No. 8 is a delightful par 3 with a water carry all the way.
The back nine is the tougher of the two. Thirteen is a long, into-the-wind par 5 with a landing area pinched by clusters of palms trees on both side of the fairway. Two holes later you'll find another fun par 3 with water on the right. The 17th hole is your last chance to swing the driver hard, as you're given an unusually wide fairway.
The closing hole is just a little too cute, only 300 yards but with a 90-degree dogleg. Fortunately, Candela intends to reverse the nines, offering future golfers a fine par-5 finishing hole just steps from the clubhouse. By then, the restaurant may be more reliably open.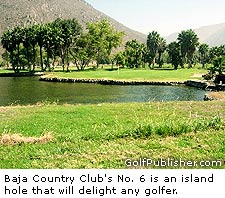 The verdict
Sitting in judgment on Baja Country Club is difficult, and somewhat unfair. It's a work in progress, and those who prefer immaculate conditioning are best advised to wait awhile on this one. The course, at the moment, is sort of the golf equivalent to the grunge rock scene of the early 1990s -- ragged, at times out of tune, but overall lots of fun if you've got good company.
By no means should you frame a northern Baja trip solely around this course. But if you're on a golf and goofing-off journey in northern Baja and feel like dropping in with a friend, it's there for the taking. It's only getting better, and it's already a fun way to spend a few hours.
Rates are $46.75. Twilight rates (after 3 p.m.) are $30.25.
Stay & Play
Bajamar Golf Resort ((800) 434-2252) is about 45 minutes north of the course, but it's anchored by the best golf course in northern Baja, offering golfers another excellent playing option. The rooms are nice and the resort also offers tennis, swimming, and a restaurant.
Hotel Coral & Marina ((702) 851-0839) is a resort hotel, right on the water, overlooking the marina and close to shopping and nightlife in Ensenada and is hard to miss, just north of town.
El Cid ((702) 851-0839) is a Best Western, Mediterranean style hotel overlooking Ensenada Bay. The hotel offers free high-speed Internet and is conveniently located to other attractions in Ensenada.
Dining Out
Las Rosas by the Sea ((646)174-4310) offers oysters Rockefeller, broiled lobster, chicken parmesan, filet mignon and a Sunday brunch. It's located n the Las Rosas Hotel, three miles north of Ensenada, on Highway 1.
Punto Morro Restaurant ((646)178-3507) offers Mexican, French, Continental foods, steak, seafood, salads and great martinis. It's three miles past toll booth going into Ensenada, a half mile past the Las Rosas Hotel.
Fish tacos on the street are always an option. Fish tacos originated in Ensenada and locals say the ones at the stand directly across from the Gigante Market are the best. Eat one at a time until you're stuffed, then settle up.
Hussong's Cantina is the place to go for your favorite libations. The legendary cantina has been in continuous operation for more than 100 years. Sooner or later, every visitor pays a visit to Hussong's in downtown Ensenada
Any opinions expressed above are those of the writer and do not necessarily represent the views of the management. The information in this story was accurate at the time of publication. All contact information, directions and prices should be confirmed directly with the golf course or resort before making reservations and/or travel plans.